Our Resources
Here are our materials and resources to help support you.

Phoenix Support Group
Living successfully after sexual abuse
A survivor led peer support group in Manchester. We meet online – biweekly on Tuesdays, 6pm-7.30pm via Zoom – throughout the year. Women only, 18+, limited spaces available.
Email: phoenixspprtgrp@gmail.com          for more information and to arrange a short introductory phone call prior to the first meeting.
Info:  The Phoenix Support Group is currently at full capacity, but you still can contact us and go on our waiting list, to join us when a space becomes available.

HOLDING HOPE
Student Peer Support:                From Surviving to Thriving.
Holding Hope is a support group formed to offer aid and encouragement to students dealing with trauma as a result of sexual assault and rape.                This non-counselling based service allows victims, survivors and thrivers alike to share their stories, seek advice and support one another whilst simultaneously growing stronger together.            The group allows us to share the way we feel with others who have experienced similar problems and provides a sense of community in what may feel like the darkest period of our lives. Through mutual encouragement and reducing our sense of isolation, we can step into the light and reclaim our lives.
Our group runs as a face to face group, biweekly on Wednesdays, 7-8.30pm and over the summer break via zoom online.
If you are interested in joining this group, we ask that you email us at: holdinghope.spprtgrp@gmail.com
After this, we will arrange a phone call to chat and check if this is the right group for you, as well as give you some additional information. It will also give you the opportunity to meet us and ask any questions you may have. Our email address is monitored Monday-Friday and we aim to respond to all emails within 48 hours.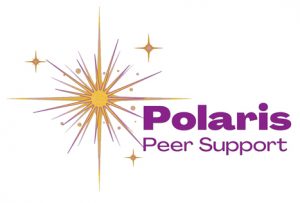 POLARIS GROUP
Polaris is a peer support group for adult women (18+) who have experienced any form of sexual trauma, including (but not limited to) sexual grooming, childhood sexual abuse, rape and sexual assault.
This peer led group allows women to share their experience(s) with the aim of bringing about desired change, promoting choice, empowerment, validation and support.
Sharing our experiences with other women who 'get it' can make us feel visible, less isolated and un-judged and can provide a sense of release or relief.                    We validate by acknowledging each others' experiences and by listening to each other. Change can come about when we reach out and meet with others in a space where we can be visible and heard.  We don't try and avoid the difficult questions but we do it at our own pace.                  It's empowering when we decide; when to talk, when not to talk, what to talk about, how much to share or not; it's our choice.
Polaris meets fortnightly on a Wednesday evening 6.30pm-8.10pm via Zoom.
Email us at polaris.peer.spt@gmail.com          to express an interest in joining Polaris, we will respond within 72 hours to arrange a short follow-up phone call.
Info: Polaris Peer Support is currently at full capacity.  However you can still contact us to go on our waiting list, to join us when a space becomes available.
Peer Support
GMRC supports the set-up and initial running of trauma-informed and survivor led peer support groups using a person-centred and trauma-informed approach that is in-line with Rape Crisis National Service Standards and which reflects the ethics of GMRC.
The peer support groups are self-governed. Guidance and training from GMRC enable the initial development of the group and its early facilitation.
If you are interested in finding more out about trauma informed survivor groups please contact us at: peersupport@manchesterrapecrisis.co.uk
Currently there are three peer support groups which have been developed with the support of Greater Manchester Rape Crisis:
 Join a support group
                 "I felt so supported by
this group, they have been
such an anchor for me
at this difficult time"
GMRC Support group member since 2017